Christmas is about giving, not only to loved ones but also to those in need within our community. As the cost-of-living crisis begins to take hold, there has inevitably been a growing demand for the valuable work our local charities provide supporting those in need.
This Christmas, Caterham Valley businesses and individuals came together once again to offer much needed help to numerous charitable initiatives, be it through monetary donations or by volunteering time to help the programmes run smoothly across the festive period.
The Caterham Foodbank does remarkable work supporting families in the Tandridge District who are in food poverty.  As demand for their services grows, many local businesses have offered a helping hand.
Shard Solutions are a family run business on Croydon Road.  They raffled off a beautiful Fortnum and Mason Christmas hamper in the weeks before Christmas and raised an incredible £272 for the Caterham Foodbank.
The team at Hawke Financial regularly donate their time to help the foodbank throughout the year. Over Christmas, they helped to sort and weigh all the donations from the Tesco on the Hill Christmas Collection.
Gill Bailey, Project Manager Operations of the Caterham Foodbank, shared the following message of thanks;
"We are so grateful for the amazing support of local businesses in Caterham, and for their help over the festive period. We really appreciate not only their donations, their volunteering and activities they held, but by doing so raising awareness of the work we do. Sadly, our services are needed more than ever, but with the help of our generous local community and businesses in Caterham and the surrounding area, we're able to help and support people locked in poverty."
Majid at Café Bambino was another business owner who was keen to ensure that the Christmas spirit was experienced by as many as possible. Majid and his team of volunteers cooked up a delicious Christmas dinner for families in the area who would otherwise not have been able to go out for a Christmas meal.
"It's a difficult time of the year for many, so this is all about helping the families. It's about the children" said Majid when we caught up in early January.
The team at Bambino managed 63 covers over 5 evenings during the week before Christmas, and he hopes to do even more in 2023.
Majid was full of gratitude as we continued to discuss his initiative: "I want to say a big thanks to all the businesses who helped out this year with donations of sweets and gifts for the children, especially David Knight (Director, Soper Hall) for braving the heavy rains to bring me a trolley full of chickens and presents – he has always been a huge supporter of this event."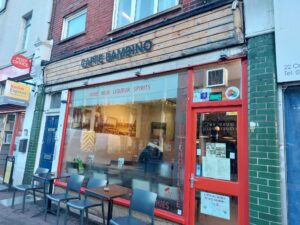 Wingate Financial Planning are financial consultants based in the Valley who support the Whyteleafe Community Hub and Food Bank. We spoke with Managing Director, Ben Clarke on the work the team have been doing this year to help:
"The Whyteleafe food hub are currently delivering food parcels to approximately 100 local people every week.  These are all people in desperate need and include a mix of elderly and vulnerable, families with very young children and others who are in temporary strife for a variety of reasons. Wingate is just one of the businesses in the local area that support the charity food hub.  We have volunteers who support the work the Community Hub provide each week and in December our employees generously donated gifts and treats which enabled the hub to provide age and gender specific Christmas presents to the children of 24 families."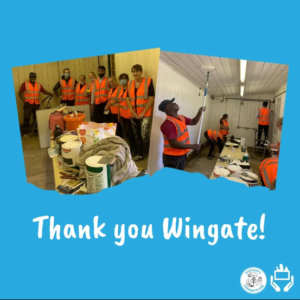 Croudace Homes is another local business supporting the Whyteleafe Community Hub and Food Bank by donating £1,200. The team also set up a facility internally where Croudace employees could donate the most needed food items before Christmas.
It is fantastic to see how our Caterham Valley business community has rallied together to support our local charities over the Christmas period. It goes without saying that these charities will continue to welcome our help as we enter what will be a tough year for many families across the area. Should you wish to volunteer your time or make a donation to the charities mentioned in this article, please see find their contact details below:
Caterham Foodbank – 4 Beechwood Road, Caterham CR3 6NA
Whyteleafe Community Hub & Food Bank – Whyteleafe Station Car Park Whyteleafe Hill, Warlingham, Whyteleafe, CR3 0AT