Spring is on the way, and what better way to welcome the season of new beginnings than with a fresh bouquet of flowers from your local florist. The Floral Gallery offers a wide variety of blooms for every occasion, from birthdays to weddings to simply brightening up your home.
As you approach the Floral Gallery, you are greeted by their incredible seasonal window displays, which showcase the team's creativity, followed by a warm welcome from Charlotte and her experienced staff as you enter the store.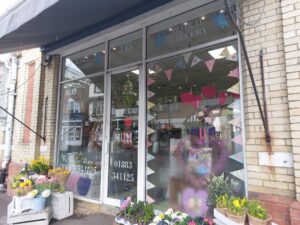 When asked how Charlotte discovered the floral industry, she said; "I had an office job before I became a florist, but the desk job wasn't for me and I needed to embrace my artistic flair and love for flowers"  and on choosing Caterham Valley as the location for the Floral Gallery, she added "We live in Caterham and have been operating from our store in Caterham for 32 years now! It was a natural choice to open in my hometown."  
Charlotte and her team not only provide beautiful flowers, but they also offer personalised customer service rooted in years of experience that you would struggle to find at larger stores and supermarkets.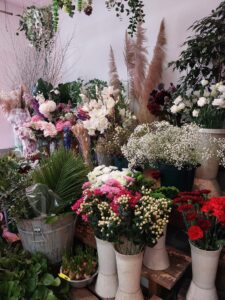 "Our main business comes from providing wedding and funeral flowers, but we love to offer our customers a bespoke service which they can't get from a larger supermarket.  It's the choice of picking the flowers that you want, or flowers that have a personal meaning to you."
The Floral Gallery prioritise environmental consciousness.  They use eco-friendly practices to reduce waste and minimise their carbon footprint, such as swapping cellophane wrapping for brown paper to wrap their flowers, and choosing natural raffia over string or elastic to tie their bouquets.
Spring is the perfect time to visit The Floral Gallery.  With so many beautiful flowers and plants coming into season, take advantage of the team's botanical knowledge to create a stunning bouquet or arrangement that reflects the beauty of the season.  Whether you are looking for a special bouquet for a Birthday, or a floral centerpiece for your Easter celebration, the Floral Gallery can help bring your vision to life.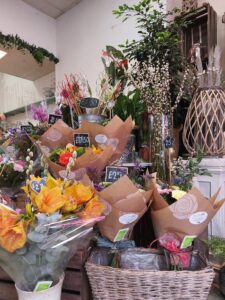 With Mother's Day this weekend, why not pop into The Floral Gallery to see how Charlotte and her team can create something truly unique for your loved ones and make a positive impact on your local community and environment.
You can find The Floral Gallery next to the station at 18 Station Avenue, CR3 6LB.
Speak to the team on Tel: 01883 341125
Opening hours: Monday to Saturday 09:00 – 16:00
Follow The Floral Gallery on social media: