In recent years, there has been a growing trend for consumers to seek out local, independent shops for their homeware needs. These shops offer unique designs that may not be found in larger stores, whilst also providing a more personal customer experience, expertise and in-depth knowledge on the products they stock. One such shop that embodies these values is Florence Fortley, located in Godstone Road in Caterham Valley.
Florence Fortley is a small, family-owned business run by Sally, who prides herself on sourcing high-quality homeware items from across the UK and Northern Europe. Her collection is carefully curated to include unique pieces that are both stylish and aesthetically pleasing. Every item in the shop is a work of art.
"I have a background in interior design. I choose pieces that I personally like, but also choose items based on what I think will work well together".
One of the things that sets Florence Fortley apart from other homeware stores is the personal touch that Sally and her team provide to their customers.  They are always ready to greet you with a smile, happy to answer any questions you have on the products and to offer advice and recommendations to help you find something that will work for your taste and budget; taking the time to get to know each individual customer's needs.
"Because of my interiors background, it just made sense to me to open an interiors store.  There was an opportunity to open the shop in the local community where people could find something a little different and special to make their house a home."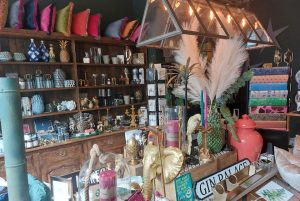 There is a sense of community fostered as you walk down the street and see the sister shop, bridal boutique Helena Fortley, just a couple of shops away. Sally is clearly passionate about running her shops in the Valley that it was an obvious choice to open two in the same road!
"Caterham is such a friendly town, with a real team spirit among the businesses.  I used to live near Caterham, so have always had a bit of a soft spot for the town and have had my wedding dress shop in the same road for a number of years, so it just seemed right when the shop became available to open it so close to my other store."
In addition to the high-quality products and personalised service, Florence Fortley also prioritises sustainable and ethical practices.  They work with suppliers who share their values and are committed the environmental impact, and themselves use eco-friendly packaging with their customers.  All their delivery boxes are second hand and they try their best to buy majority of their products from within in the UK.
Florence Fortley is a gem in the world of homeware shopping.  If you are looking to update your home décor, or perhaps looking for a unique gift for someone special; from candle sticks to mirrors, chocolates to chutneys, Sally and her team are sure to have something in their treasure trove that will catch your eye!
You can find Florence Fortley at 12 Godstone Rd, Caterham CR3 6RA.