January is a great time to start thinking about home improvements. With the holiday season behind us, many homeowners are looking for ways to refresh their homes and make them more functional and comfortable. If you are considering any home improvement in the coming months, Caterham has a treasure trove of home improvement businesses located in the Valley for you to explore.
For homeowners looking to save money on energy costs, January is a great time to invest in energy-efficient upgrades.  Carpet and flooring are an ideal choice for keeping the warmth in our homes as they act as a natural source of insulation which will help to keep the heat in and make rooms feel cosier.  Stephen at Crystal Carpets, the Valley's only carpet and flooring company, are a family run business who pride themselves on the best quality products and service.
If you're looking for a more substantial home improvement project, consider a kitchen or bathroom remodel.  These are two of the most used rooms in any home and can make a big difference in the overall look and feel of your home.
When exploring the trends for 2023, both Sam from The Bathing Machine and John from Colour House Interiors said that warmer, earthy tones, such as brass and timber finishes, were going to be big this year. Alongside these trends, they have seen an increase in customers seeking more sustainably sourced, energy-efficient options for new fittings.  They also agreed that post-pandemic, with people continuing to spend more time at home,  there is a desire to bring the 'outside in' and celebrate the natural world within our home.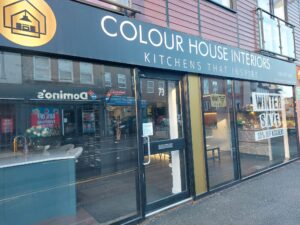 Select Bathrooms and The Bathing Machine both operate out of the Valley.  The Bathing Machine has been a family run business for 30 years, helping customers with the design, supply and installation of their new bathrooms.  Sam took over the operations from his father around seven years ago.
Sam commented: "People are spending more time at home now, and are keener to ensure that their space works better for them.  The bathroom provides a bit of "me" time where you can escape for 20-30 minutes.  Customers are after a sense of wellness, colour, tactile surfaces and individuality. Creating a luxurious hotel-like feel, a personal sanctuary, doesn't have to cost a lot. Customers also have a clearer idea of what they want as people are doing more research these days."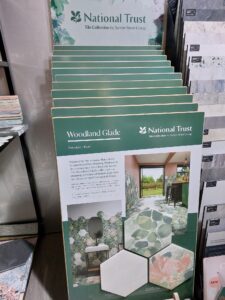 Colour House Interiors is one of two kitchen shops on Croydon Road, along with Magnet, and first opened their doors two years ago.  Last year, they were named as finalists in Retail and Design Awards for "New Kitchen retailer of the year".  We asked John, Owner of Colour House Interiors, why he chose to open his store in Caterham,
"We cover a really wide area with our clients. Caterham is ideal as it's easy to get to and is a cross road to some of our key locations." 
John has worked for 15 years in the kitchen industry. They design, supply and install all of their kitchens. "Local business has really increased for us – we get a huge number of local referrals.  People are not moving house as much and preferring to take on renovations to make their current homes work better for them."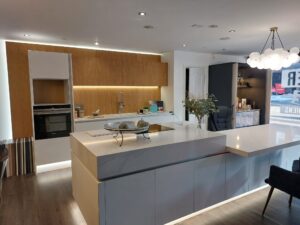 So, whether you are looking to declutter, redecorate, remodel or make energy-efficient upgrades, there are plenty of creative ways to improve your property and add value. With a little help and expert advice from the numerous home improvement businesses in Caterham Valley, you can make your home a place you will truly love spending time in.