In the world of design and craftmanship, passion is the spark that ignites a lifelong journey of discovery.
For local resident Matthew Hill, Founder of Matthew Hill Furniture, that spark started at a very young age; his heart was set on designing and he has managed to turn his passion into a thriving profession.
Matthew is not just a craftsman, he's a young entrepreneur with a keen eye for artistry. His journey into the world of bespoke carpentry started locally in Caterham Valley, when he was just a little boy.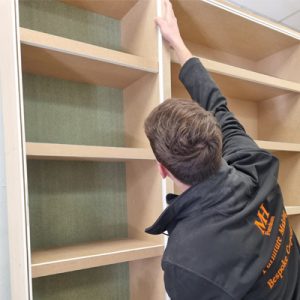 "My grandfather and Great-Grandfather owned William Hill Interiors, which was located in the shop where Moda previously stood, from 1948 to 2016." 
He always knew he wanted to work in design, but his passion for working with materials grew after he created his first item, a bedside table, for his GCSE's.  At the age of 16, he took his first step towards creating his business.  Starting part-time work on bespoke furniture, he honed his skills and gained valuable experience in his trade, and has now been operating full-time in his business for the last 2 years.
Matthew's workshop is located at the end of Rylands Close in the Valley, just a stone's throw away where his Grandfather and Great-Grandfather's business thrived. It is here that he and his team skillfully hammer, sand and polish pieces of wood into bespoke furniture.  It's not just a job for this team, it's a way to let their creativity run wild, expertly crafting conceptual commissions into tangible, functional furniture.
But life isn't all about work for Matthew. When he's not shaping wood into beautiful pieces, you can find Matthew out on the hockey field three times a week, or simply hanging out with his friends and family at Oakhall Church savouring life's simple pleasures.
We asked Matthew what a dream year would look like for him in his business;
"I currently do 50% residential and 50% commercial projects, but my dream would be to land a big contract with a London based restaurant or office to do a complete fit out."
From a young enthusiast, to becoming the Founder of a thriving bespoke carpentry business set in the heart of Caterham Valley, it is fantastic to watch his business grow from strength to strength. If you're looking to commission a piece of truly unique furniture, get in touch Matthew and his team.
Follow Matthew Hill Furniture on: