The Queen's Platinum Jubilee celebrations take place from June 2 to June 5, when events up and down the country will mark Elizabeth II's 70 glorious years on the throne.
Caterham too has a host of activities planned, such as this funky, fashion challenge launched by St John's Church which is inviting people to create a fun hat fit for royalty.
Organisers say, the hat can be any shape and design and made from any material – you can even convert an old hat into something new – the only criteria is… it must be FUN!
All entries will go on show in the church, strung between the pillars, throughout June. Visitors to the church in Clareville Road can then vote for their favourite.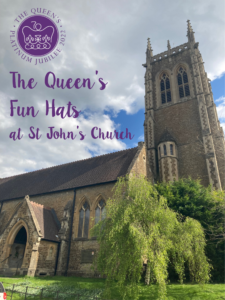 Volunteers will be on hand at the church to receive the hats on Friday May 28 from 3.30pm – 6pm and on Saturday May 28, from 10.30am – 2pm.  If you can't bring it on either of those days, please contact Julie via the church website stjohnscaterham.org.uk and use the form under "Get in Touch" to make other arrangements.
The aim is to have the church looking really colourful during June, with many, many hats on display inside from the whole community.
The hats can be made by individuals, families, groups, friends and so on, but make sure it has a hanging loop attached to it, so it can then be attached to the display.  A number will also be added to the loop to enable people to vote.
Please click here to download the entry form, which can then be printed out and attached to your hat.
So why not get your thinking cap on, get involved and create a fun hat fit for The Queen!