Nestled in the heart of Caterham Valley, Café Istanbul may look like a new shop, but it is actually a rebrand of the former "Sweet and Savoury Waffles". This small business, owned by Said Yazici, has been serving up waffles, ice cream and coffee to the community for the past 6 years and is loved by all who visit, young and old alike!
At Café Istanbul, the focus is on quality, both in the food and drink that Said serves, as well as in the customer experience. Before coming to Caterham to open his shop, Said worked as a pastry chef at the Hurlingham Club in Putney. When asked why he chose to open his shop in the Valley, he said "I always follow my feelings to give me the answers. When visiting Caterham I really liked the area and got a good feeling, so I trusted my feelings, and I am happy I did."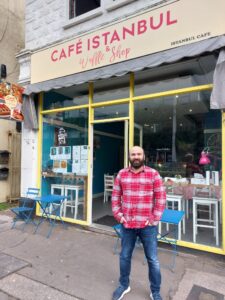 One of the things that set this café apart from others in the area is the variety of freshly made Turkish dishes, alongside the favourite waffles and ice cream as served before. "I wanted to bring something different to the Valley than the other cafes. My Pide is like a Turkish sourdough pizza/flatbread, and the lentil kofte is really enjoyed by Vegans." With a little notice, Said can also make waffles for customers who are gluten-free.
Said is delighted that the introduction of the Turkish dishes has received positive feedback so far, and he hopes in time to introduce more items to his menu – "my plan is to expand the menu and hopefully move to bigger premises to run a full Turkish restaurant or even a dessert venue."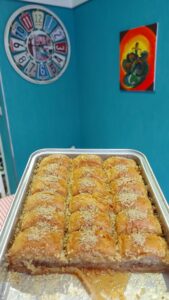 After 10 years in the UK, Said initially came to England to improve his English but decided to stay as he fell in love with the country. He is a keen traveller, and soon will be visiting 10-15 cities across Europe over a few different trips. You can follow his Instagram page to see where his adventures take him!
Café Istanbul has become a much-loved part of the community, not just for its delicious food and drinks, but also for the warm and welcoming atmosphere that Said offers. Whether you're grabbing a quick coffee before work or spending some time with friends, this small business is a true gem in Caterham Valley.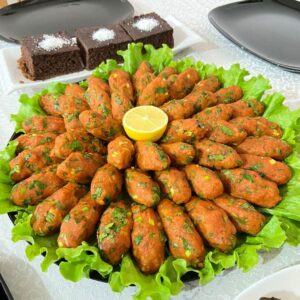 So next time you are in the area, be sure to stop by Café Istanbul and experience the unique cuisine for yourself. And, if you are looking for something to do over half term, why not treat the kids to a Pide, Turkey's version of a pizza! The café will be open every day during the holidays from 10-5 (Sundays 10-4).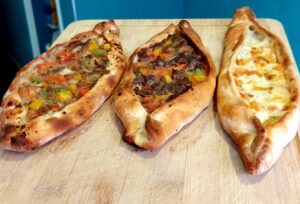 Follow Said on Facebook here
Follow Said on Instagram here
Find Café Istanbul at 28 Croydon Road, Caterham CR3 6QB