There was a flurry of excitement and anticipation around Caterham earlier this Autumn, waiting for the new business to be unveiled. The shop in the corner at Church Walk has seen a wide variety of businesses and customers pass through its doors over the years, from coffee shops to hairdressers.
The name went up and a hint of what it might be was teased. Then, on the 29th September 2022, Kokoro's doors finally opened with a rush of visitors wanting to try out the new Asian cuisine.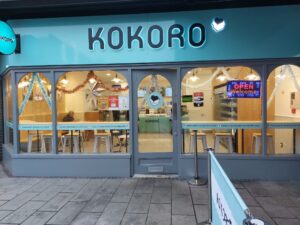 Founded by Rak-Kyu Park in the UK more than a decade ago, Kokoro is a Korean Japanese restaurant that has expanded to several locations across the country. Kokoro puts customer service at the very heart of the business, and this customer experience is supported by the use of fresh ingredients daily and environmentally conscious packaging. 'Hearty soups and scrumptious sushi' form the foundations of the unique menu, alongside more substantial hot meals.
Located in Church Walk Shopping Centre, Kokoro had been open two months to the day when we visited. Customers were still flowing in for their takeaways or taking a seat and enjoying their meals in the restaurant, long after the lunchtime rush.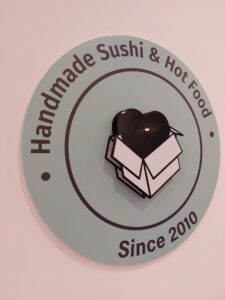 We met with husband-and-wife team, Jayathas and Saranja to find out more about their family-run business. When we asked what their motivation behind opening Kokoro was, Jayathas answered:
"After working in a Japanese restaurant for 14 years, I moved on to the Croydon branch of Kokoro.  It became my dream to one day have my own store, and now here I am today!"
Saranja added:
"We were shown four different areas by the head office, but we settled on Caterham due to its location. We were inspired by the friendly community and our desire to bring something truly unique to the town."
Jayathas and Saranja currently manage a team of twelve friendly staff and all their food is made fresh in-house each day.  We've tried a few dishes from the restaurant and have really enjoyed each one – the spicy pork definitely packs a punch, and the prawn katsu curry leaves you wanting more!
We asked Jayathas what his future plans were:
"My bigger dream is to run many Kokoro's, so I'm working hard to make it happen"
The team at Kokoro are very welcoming and knowledgeable on all the dishes served on the menu, in case you are not overly familiar with this style of cuisine. So, if you are in Caterham Valley and looking for a bite to eat, pop in, say hello and see what dish can tickle your tastebuds!