As part of Colour Caterham, we asked local school children to showcase their creativity by taking part in our children's colouring competition – and now the overall winners have been chosen.
The Caterham Valley For You office was briefly transformed into a temporary art gallery, with more than 350 artworks being returned from children aged two to 11 years old.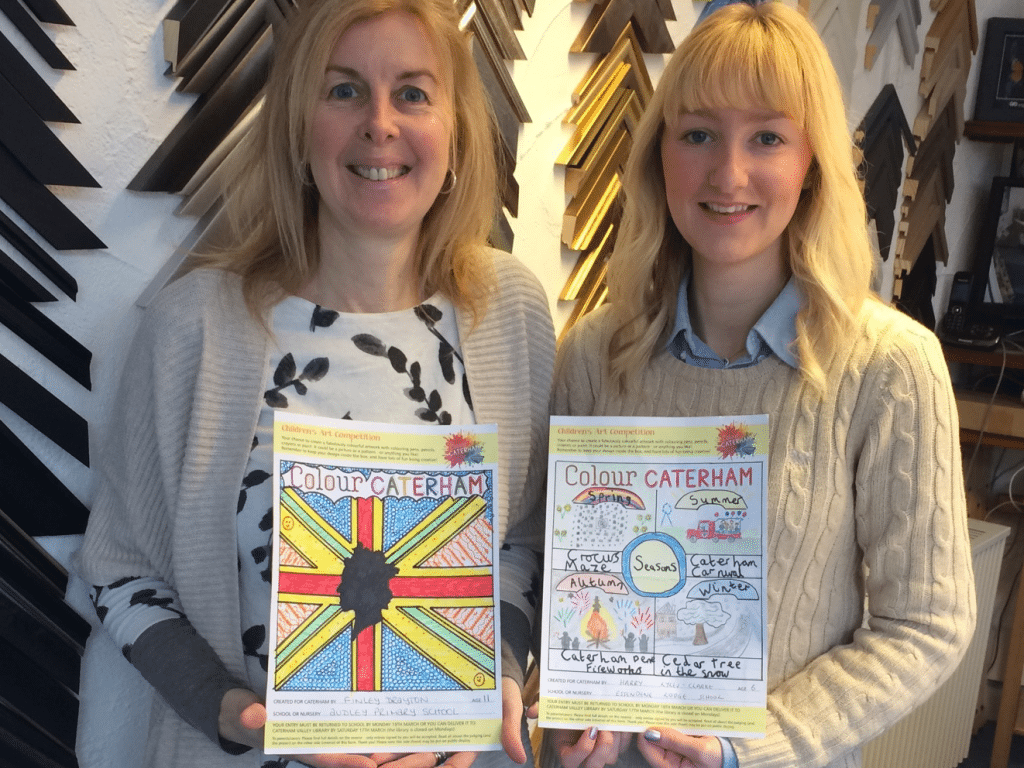 Caterham Galleries' June Allen and Jodie Green (pictured above) kindly agreed to judge the entries and, after much deliberation, picked Finley Drayton, age 11, from Audley Primary School and Harry Lyles-Clarke, age 6, from Essendene Lodge School as the overall winners in their respective age groups.
Both will have their artworks professionally framed by Caterham Galleries and displayed in the gallery's window during Colour Caterham, before the artworks are presented back to the winning artists.
Above you'll find a sneak preview of our 27 runners-up, and these will be on display in shop windows around Caterham Valley from Easter Saturday.
Head into town to visit our participating pop-up venues, Caterham Valley Library, JJ Browne & Son (Jewellers) Ltd, Cubitt & West, Choices Estate Agents, Rayners Town & Country, Park & Bailey, Martin & Co, Hamptons International and Bairstow Eves, to see these artworks in their full glory.
The runners-up are:
Marden Lodge Primary School and Nursery
Eden Einecker, age 4
Aurelia Bassant, age 5
Lily-Mae, age 7
Katie Morrison, age 9
St John's C of E Primary School
Wilf Stone, age 9
Isobelle Tame, age 6
Isabella Rose Hedges, age 11
Audley Primary School
Grace Thompson, age 11
Prasham Appadoo, age 5
Essendene Lodge School
Shreya, age 6
Darcy Berdussin-Smith, age 6
Oakhyrst Grange School
Ava Wegorek, age 6
Lana Carter, age 9
Caterham Preparatory School
Sam Godfrey, age 9
Elena Gohill, age 7
St Peter and St Paul C of E Infant School
Bobby Brack, age 4
Lucia Day, age 5
Adam, age 6
Hillcroft Primary School
Shailey Emily Freeman, age 5
Shanay Star Creasey, age 6
St Francis' Catholic Primary School
Ameli Holland, age 10
Léana, age 9
Abigail S, age 8
Josie, age 6
Caterham Children's Centre
Bear Gladwin, age 3
Hawthorns School, Bletchingley 
Isla Hickman, age 10
Emily Hickman, age 8
Colour Caterham launches on Thursday March 29 and runs for two weeks. For more information, click here. Make sure to join Caterham Valley For You's online community by joining us atTwitter, Facebook and Instagram.