Christmas is fast approaching and, if you're looking for a special gift for loved ones, then look no further than Caterham Valley! With an array of independent shops, you'll be sure to discover some truly unique gifts whilst also supporting local business.
To help us all get in the festive mood, we are delighted to welcome back talented artist Sam TM this year. Sam has been busy adorning windows around town, creating a storyboard of 'The Twelve Days of Christmas'. You can find a list of where all Twelve Days are located below, with many more fun window displays linking the Days across Caterham Valley town centre.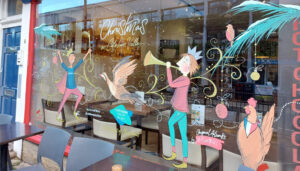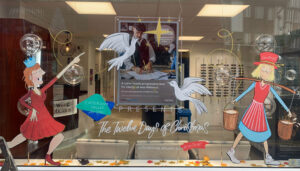 On Saturday, 26th November, the Parish Council and Church Walk Shopping Centre will be hosting a Christmas Market between 11-5pm, with over 50 market stalls on Croydon Road and many more community stalls in the Shopping Centre. There will be plenty to entertain all ages with a DJ, chair-o-plane, snow globe, face painter and a special visit from Father Christmas who will be turning on the Festive Lights at 4:45pm.
Download Christmas Market info
Soper Hall are also hosting a Christmas Fayre between 10-6pm on the same day. For a £1 entry fee, there will be a DJ, Santa's Grotto, an array of fabulous craft stalls and entry to a Prize-Draw.
East Surrey Museum will be open between 10:30-5pm on the 26th and welcoming guests to 'The Night Before Christmas'.
We hope that you are able to visit Caterham Valley to join in the Festivities and support the wonderful selection of independent businesses by shopping small this Christmas. Don't forget to tag us in your photos and look out for our Christmas Gift Guide coming soon!
Caterham Valley presents The Twelve Days of Christmas by SamTM
Day 1 – 'A Partridge in a Pear Tree' at Dtail
Day 2 – 'Two Turtle Doves' at Kenley Financial
Day 3 – 'Three French Hens' at Florence Fortely
Day 4 – 'Four Calling Birds' at Bollywood Restaurant
Day 5 – 'Five Gold Rings' at The Gallery
Day 6 – 'Six Geese a-Laying' at Clarks
Day 7 – 'Seven Swans a-Swimming' at Hamptons
Day 8 – 'Eight Maids a-Milking' at RSPCA
Day 9 – 'Nine Ladies Dancing' at The Workary, Quadrant House
Day 10 – 'Ten Lords a-Leaping' at Colour House Interiors
Day 11 – 'Eleven Pipers Piping' at The Beach
Day 12 – 'Twelve Drummers Drumming' at Vitaltone Pharmacy