We continued our series of Marketing Workshops on Thursday last week. The workshops are designed to aid business growth by offering marketing expertise in key areas and enabling local businesses to come together to share ideas. Representatives from levy paying businesses are invited to join these sessions.
Hosted by Your Marketing Team at The Workary, our second workshop covered Social Media Marketing and how to effectively engage with your audience. We delved into how to pull together a targeted social media strategy and content plan through detailed research and analysing insights.
We welcomed guests from Wingate Financial Planning, The Beach, Matthew Hill Furniture, Caterham Digital & Post Office, Caterham Dance School, The Bathing Machine, Hawke Financial Services and Huntley Cartwright.
The diversity across industry sectors facilitated engaging discussions as attendees were able to offer a fresh perspective into each other's businesses.
Damian Evans, Co-Principal of Caterham Dance School commented:
"I found the workshop very useful, relaxed and informative and you were all very approachable, thank you."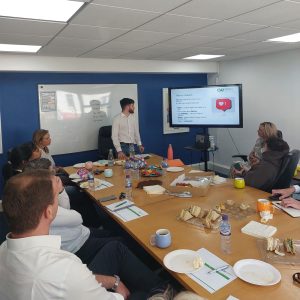 Our next workshops will take place after the Summer and will aim to delve deeper into Digital Marketing and PR. More details will be sent in due course.
Thank you to all those who attended our second Workshop and to The Workary for hosting the event.