This year's British Hairdresser of the Year in the prestigious Style Masters International Awards, David Rae has brought a definite sparkle to Caterham with the opening of his state-of-the-art hair salon combined with photographic studio and training academy. Here we find out more.
Tell us a bit about your business…
I opened my first salon back in 2004 in a place called Pettswood near Bromley. Funnily enough, it was actually my ambition to set up in Caterham initially, but there wasn't a shop available at the time. So, I was delighted to open our new salon here at the end of 2017. As well as the salon itself, we also have a dedicated photographic studio, where we do photo shoots with both our customers and models, and also hire it out to high-profile brands such as Revlon for them to do their own shoots. Then we also have our own hairdressing academy here too. We have received a lovely warm welcome in the town and, so far, things couldn't be going better.
What made you decide to set up in Caterham?
I have always had a soft spot for Caterham, as I have lived in this area for many years now. I am originally from Biggin Hill and now I'm just down the road in Oxted. So, I have a genuine affection for the town and its people. Also, from a business point of view, there were only four hairdressers in the town, which might sound like a lot but is actually very few for a town of this size. Back in Pettswood, there are 17!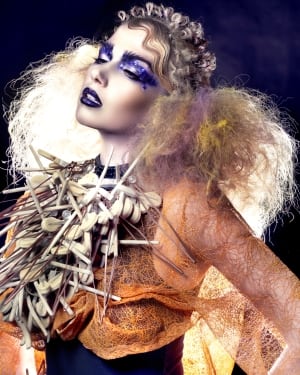 Is there any advice you would have for other business owners in the town?
I think the important thing these days is to be aware of how towns are changing. The days of 'real' shopping have gone, and the traditional shops are disappearing from suburban high streets. Instead, there are more and more service shops replacing them – so hairdressers and day spas and nail bars and so on. So, make sure there is a demand for what you are offering, always be honest and be completely different from everyone else.
Why should someone visit your business for the first time?
As a multi-award winning salon, you can be sure you are getting a cut of the highest quality – and we are also very connected to what's on trend. For example, I work on a lot of shoots for magazines. But, equally importantly, we really listen to our customers' needs – and that is actually very rare. So many businesses, of all sorts, just don't do that. However, we always have an in-depth consultation with our customers, in order to find out exactly what it is they are hoping for, and will then advise them accordingly. 
What would be your top tip for someone visiting Caterham?
After coming to us, of course, I think it would have to be to visit the local tapas bar, Casa Lola, who do the best tapas around! The food is amazing and the people are always so welcoming.
Describe your typical lunch break to us…
I'm usually very busy with clients, so I don't know about typical but see above for my ideal lunch break!
Finally, tell us your favourite thing about the town…
For me, it would have to be the community spirit. We are currently planning to open another five salons, and you will never find any of my shops in a full-blown high street. I much prefer the smaller places with the little, interesting shops – the places that have soul.
Meet more Caterham Characters…