In our latest interview with a Caterham Valley character, we meet Shim Patel, owner of long-established business Vitaltone Pharmacy and Vitaleyes Opticians.
Tell us a bit about your business…
A family-run business, my wife Monica and I took over the store in 2004. At that point, it was only a pharmacy, but we now have an optician's as well, plus a vast range of fragrance and beauty products. In fact, we have one of the largest ranges of fine fragrances in the area, outside of Croydon.
What made you decide to set up in Caterham Valley?
The business has actually been in the family since 1986 when it was run by my uncle. Back then, it was originally a supermarket, as many people will remember – but then when Morrisons opened in the town, he relaunched as a pharmacy. Eventually, though, my uncle decided to emigrate to the US, and that's when we took over the store in 2004.
Is there any advice you would have for other business owners in the town?
We are lucky to have a very loyal community of customers, but there's no secret to that really other than hard work and good service. When we first took over the business, we worked incredibly hard – six days a week. Put it this way, my wife Monica only took four weeks' maternity leave – and she finished at the shop the day before she gave birth. So, my advice would always be to work hard, and offer the best service that you can, and you'll reap the dividends.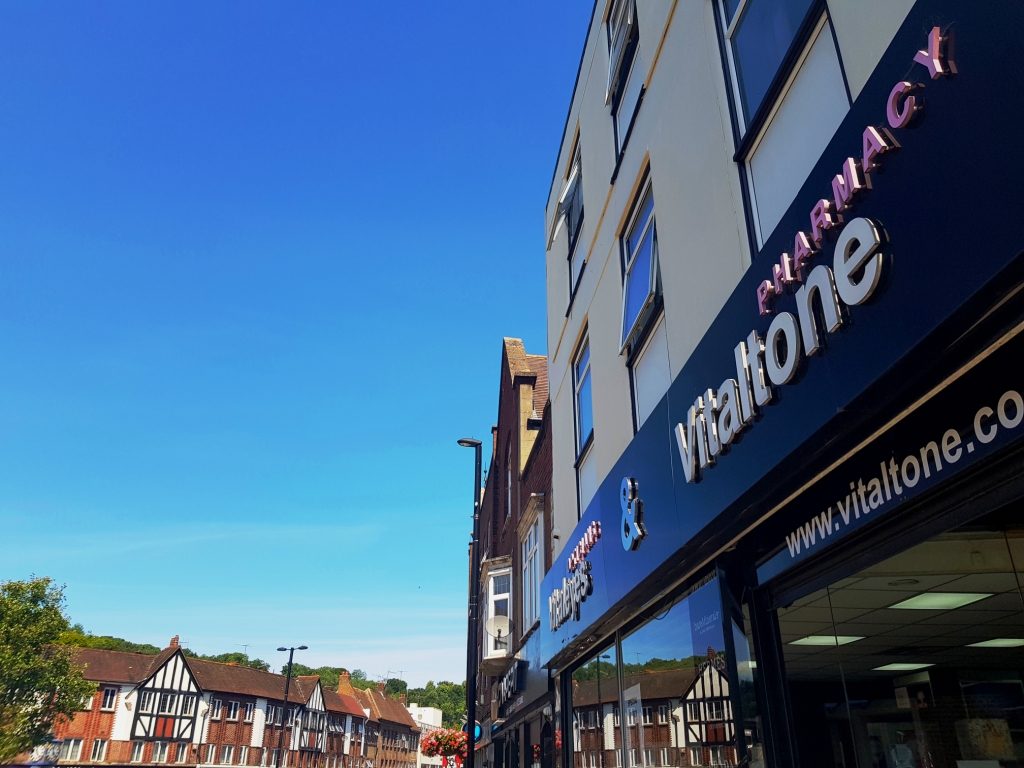 Why should someone visit your business for the first time?
We are a very diverse business – and, in fact, most people probably don't see from the window what we actually offer in the store. So, I always say to people, just come and say hello, and see what we do here. For example, many people won't know that we do Clarins makeovers – or that we offer free delivery of prescriptions. In addition, for the optician part of the business, my wife Monica takes care of every aspect – from filling out the initial forms to selecting the lenses and choosing the frames. So, it's a very personal service and that's what we are all about really.
What would be your top tip for someone visiting Caterham?
My top tip would be just to come and have a walk around the town. There are so many great businesses in the town and such a wealth of experience and expertise. If you go to Craft Stationers, you know you're getting the very best advice about your paints and the paper; if you go to Caterham Galleries, they will help you find the perfect frame for your picture; if you go to Togs at Bib & Tucker dry cleaner's, he can help with how to remove an awkward stain. There is a great deal of knowledge in the town that you don't find everywhere you go.
Describe your typical lunch break to us…
Sadly, we rarely have time for a lunchbreak, so it's normally a working lunch for us. On the rare occasion that I do get out, though, I might pop into the excellent Caffe Bambino. It's always nice having a chat with our customers and fellow business-owners. There's also lots of nice places to go in the evening, too, such as the Crown & Pepper bar, the Casa Lola tapas restaurant and Pizza Express.
Finally, tell us your favourite thing about the town…
I think that would have to be the customer loyalty that we have here in the town – and also the support of the fellow business-owners. We all do our best to help and support each other, and that's what makes the town tick.
Meet more Caterham Characters…