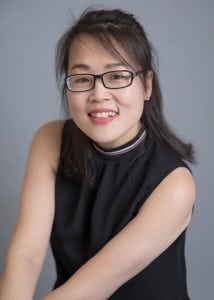 In the first of a new series, we catch up with Ying Shi, owner of The Wedding LookBook and Caterham Digital/Caterham Photography, to find out what she enjoys most about working in Caterham Valley…
Tell us a bit about your business…
In my case, I actually have two in the town – a photography shop and studio, Caterham Digital, and a one-stop wedding shop, The Wedding LookBook. The photography business has two parts: a digital printing shop at the front, which does everything from photo books and wall canvases to picture framing, and then the studio at the back, where we do everything from family portraits and baby pictures to product shots. At The Wedding LookBook, we help brides and grooms with every aspect of their wedding – from the venue, photography and the flowers to the cake, decor and the dress. In fact, we stock well over a hundred dresses onsite. Combining aspects of both businesses, I am also a wedding photographer myself, which is the best job in the world!
What made you decide to set up in Caterham?
I've always been based in Caterham and it's an area that's very close to my heart. I like the fact that it's a small, traditional town, a little bit away from London, surrounded by beautiful green areas. We are lucky to have some lovely independent shops too. Best of all, the customers here are really loyal, and come back time and again.
Is there any advice you would have for other business owners in the town?
I always say that customer service is the most important thing – and looking after each one as if they are the only one. Of course, the quality of the product is also very important, but assuming you already have that, then it's looking after your customers how you'd like to be looked after yourself.
Why should someone visit your business for the first time?
At The Wedding LookBook, we love meeting new brides-and-grooms-to-be, and we always encourage them to come down and see us for an informal chat. Between us, we have expertise in all aspects of wedding planning, so we can organise every last detail of your special day. We offer options for every budget and every taste and style, so come down and pay us a visit! At the photography business, I always say to people that the value of life is all about the memories – and there is no better way than preserving these than in print or on canvas. Having them on your phone or computer just isn't the same! I always suggest to people that they get their favourite pictures printed every six months to a year, as not only will they bring you happiness every day but they will also be a permanent record that can be passed down the generations.
What would be your top tip for someone visiting Caterham?
There are so many things to see and do in the town. For a start, there are loads of lovely cafés; we still have some great independent shops; and then there's the theatre, library and the Soper Hall community centre. So I would say to people, rather than going into London, give us a chance! By supporting local businesses, you are also helping the local area become a more vibrant, attractive place.
Describe your typical lunch break to us…
Whenever possible, I like to pop out into the town to grab some lunch, and if there's time then I might meet a friend for a coffee and a chat. I particularly like Caffe Bambino where you'll always find good food and a nice atmosphere.
Finally, tell us your favourite thing about the town…
I think if I was to pick one thing, it would be the fact that there are so many small businesses here – and that we all support, help and look after each other. For example, if I need stationery then I will always go to the local stationery store. We all know each other and we are all friends.
Meet more Caterham Characters…